6SP Stainless Steel Submersible Multistage Pump
Product Detail
Product Tags
6SP type stainless steel multistage deep well submersible pump is a new high-grade machine for getting underground water. It is widely used for water supply and discharge in industrial and mining enterprises, for farm land irrigation, for getting underground water for private use. The main parts of the pump are all made of stainless steel and copper alloy, so has such features as anti-corrosion, wear resistance, energy-saving, high efficiency and fully reliable. Besides, as it has compact structure, small and light, it is easy to maintain, transport, install and use. When used in combination with automatic energy-saving high efficiency control box, it can be protected against over temperature, short circuit, over load and under voltage, safe and reliable to use.
Application range
Water supply system
Boost
Agricultural irrigation
All kinds of industrial purposes
Working Condition
1.Solid matter in water shall not be over 0.01% (weight ratio);
2.Chemical substances content in water shall not be over 1.5mg/L;
3.Ion content in water shall not be above 400mg/L;
4.Water PH value: 6.5~8.5;
Voltage: three-phase 380V±10%, single-phase 220V±10%;
Product features
1. Full lift structure
2. All stainless steel anti-corrosive structure
3. High lift, large flow, energy-saving
4. New "float type", no axial pressure force
5. Excellent performance in pumping water with sands; impeller and discharge bowl are made of wear resistant material.
6. The pump and the motor matches well with corresponding sizes. You can assemble or change them freely.
7. Pressure balance film, can reach as deep as 120m under water.
Paramter
Motor: Max flux: 70m3/h
Accord with NEMA standard
Insulation grade: B
Protective grade: IP68
Max external diameter: Ф95mm
Max liquid temperature: 35℃
Technical Parameters
MODEL 3~380/415V 50Hz
Motor power
 Capacity
Length(mm)
ΦD(mm)
m3/h
0
3
6
9
12
15
17
21
l/min
0
50
100
150
200
250
283
350
Hp
kW
Head (m)
Lift
6SP17-9 *
7.5
5.5
97
96
94
90
85
76
63
45
675
138
6SP17-12
10
7.5
130
128
126
120
113
102
84
60
810
138
6SP17-15
12.5
9.2
162
160
157
150
141
127
105
75
945
138
6SP17-18
15
11
195
192
188
180
170
152
126
90
1080
138
6SP17-21
18
13
227
224
220
210
198
178
147
105
1215
138
6SP17-24
20
15
260
256
251
241
226
203
168
120
1350
138
6SP17-30
25
18.5
324
320
314
301
283
254
210
150
1620
144
6SP17-36
30
22
389
384
377
361
339
305
252
180
1890
144
6SP17-43
35
26
465
459
450
431
405
364
301
215
2205
144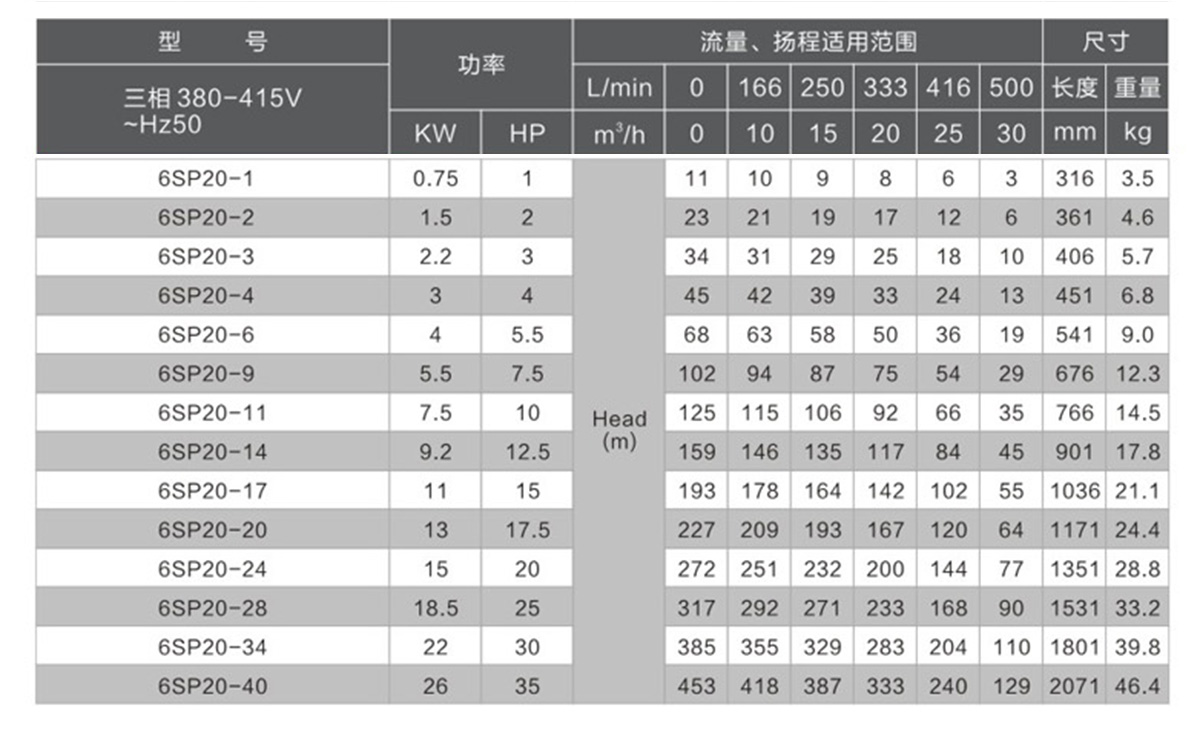 MODEL 3~380/415V 50Hz
Motor power
Capacity
Length(mm)
ΦD(mm)
m3/h
0
12
18
24
28
30
36
l/min
0
200
300
400
467
500
600
Hp
kW
H m
Lift
6SP30-5 *
7.5
5.5
57
53
49
43
40
36
26
720
138
6SP30-7
10
7.5
79
74
68
60
57
50
37
900
138
6SP30-9
12.5
9.2
102
95
89
78
74
65
47
1080
138
6SP30-12
15
11
136
127
114
104
98
87
63
1350
138
6SP30-14
18
13
159
148
138
121
114
101
73
1530
138
6SP30-16
20
15
181
170
157
138
130
115
84
1710
138
6SP30-19
25
18.5
215
202
186
164
154
137
100
1980
144
6SP30-23
30
22
260
244
225
199
186
166
121
2340
144
6SP30-28
35
26
317
296
274
242
224
202
147
2790
MODEL 3~380/415V 50Hz
Motor power
Capacity
Length(mm)
ΦD(mm)
m3/h
0
24
30
36
42
46
54
66
l/min
0
400
500
600
700
767
900
1100
Hp
kW
Head m
Lift
6SP46-4
10
7.5
52
45
42
39
36
32
26
9
630
138
6SP46-5
10
7.5
65
56
53
49
44
40
32
13
720
138
6SP46-6
12.5
9.2
78
68
63
56
52
47
37
15
810
138
6SP46-7
15
11
90
79
73
67
61
56
42
16
900
138
6SP46-8
18
13
102
90
83
77
69
62
47
18
990
138
6SP46-10
20
15
127
113
105
95
86
77
59
24
1170
138
6SP46-12
25
18.5
151
135
125
115
103
93
71
27
1350
144
6SP46-14
30
22
176
154
143
132
118
103
80
30
1530
144
6SP46-16
35
26
198
176
165
150
135
120
92
36
1710
144
6SP46-18
40
30
223
200
187
168
149
131
102
40
1890
144
MODEL 3~380/415V 50Hz
Motor power
Capacity
Length(mm)
ΦD(mm)
m3/h
0
24
36
42
48
54
60
72
l/min
0
400
600
700
800
900
1000
1200
Hp
kW
Head m
Lift
6SP60-4
10
7.5
52
47
41
38
36
33
30
19
670
138
6SP60-5
12.5
9.2
65
58
51
47
44
41
37
23
770
138
6SP60-6
15
11
78
68
64
61
58
52
47
29
870
138
6SP60-7
18
13
91
80
71
67
62
58
53
33
970
138
6SP60-8
20
15
104
92
80
75
71
66
60
38
1070
138
6SP60-10
25
18.5
130
109
101
95
89
83
75
47
1270
144
6SP60-12
30
22
156
132
122
114
107
99
90
56
1470
144
6SP60-14
35
26
182
152
142
133
124
116
105
65
1670
144
6SP60-16
40
30
208
174
162
152
142
132
120
75
1871
144
---
Previous:
Stainless Steel Submersible Pump
Next:
Vertical Turbine Pump
---
Write your message here and send it to us