75kw 120m3/hr submersible pumps are made of corrosion and abrasion resistant stainless steel and have been developed in accordance with state-of-the-art technology. The QJ series of pumps are manufactured to the highest standards for energy efficiency, high performance, rugged construction and long service life for the most demanding applications.
10″ 75kw 120m3/hr submersible pump used for municipal water
A public water supply system or water supply network including water treatment facilities, water storage facilities (reservoirs, water tanks and water towers) and a pipe network for distributing the treated water to customers including residential, industrial, commercial or institutional establishments.
Municipalities require reliable, energy efficient and environmentally friendly equipment for pumping of clean water and the proper disposal of wastewater. In Shenlong, we offer water management pumping solutions for the transportation and distribution of potable water, the treatment and reuse of wastewater, and storm and flood water disposal.
Stainless Steel Material 75kw 120m3/hr submersible pump 250QJ-125-128-75 detailed data as bellows:
Type: 250QJ-125-128-75
The outdiameter of the pump: 233mm( fit for the well with diameter at least 10″or more)
The Q: 120m3/hr
The H: 130m
The power of the pump: 75kw
The Voltage: 3 phase 380V
The material: cast iron
The cable length: 130m
The control panel: one by one ( means one control panel controls one pump set)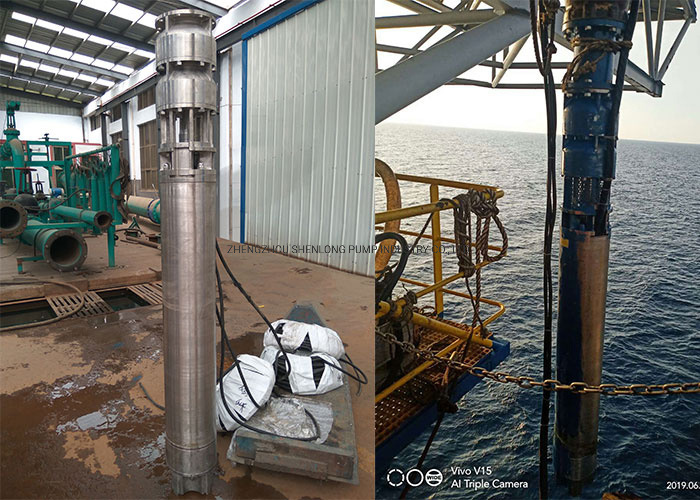 Stainless steel 75kw 120m3/hr 130m head submersible pump features
External stainless steel sleeve to improve stiffness and assure permanent alignment of all the components
Stainless steel components for durability and robustness, guaranteeing longevity and trouble-free operation. Many design technical features make this pump range very compact and extremely reliable, to ensure applications in the most complex and severe conditions
Motor adapter and discharge head may be removed without disturbing the impeller / diffuser stack
Easy maintenance without the need of special tools
Built-in check valve and over size pump shaft
Stainless steel submersible pump applications
– Potable water supply from deep wells
– Municipal and industrial waters supply
– Irrigation and other agricultural applications
– Fire fighting systems
– Pressure boosting in high-rise buildings and other applications
Zhengzhou shenlong pump industry co.,ltd, the pump manufacture for 30 years. Any question or help, please feel free to contact me if any necessary. Also welcome to visit China and our factory if have chance!
---
Post time: 2022-02-10
Previous: 11KW Mine Sewage Submersible Pump
---