300HW-12 Mixed Flow Pump Flow 1000 M3/Hr At 12 M Suction/Discharge 12 Inch Data:
Type: 300HW-8
Power(KW): 37KW
Speed(rpm): 970
Flow(m3/h): 1000m3/h
Head(m): 12
Outlet size: 12inch
Inlet size: 12inch
Shaft power: 31.72 kw
Efficiency: 85%
Voltage: 3 phase 380V
Frenquency: 50HZ
Pump case: Cast iron
Shaft: 3Cr13
Impeller: Cast iron
Seal type: Gland packing
Suction Casing: Cast iron
Delivery Casing: Cast iron
Weight: 230kg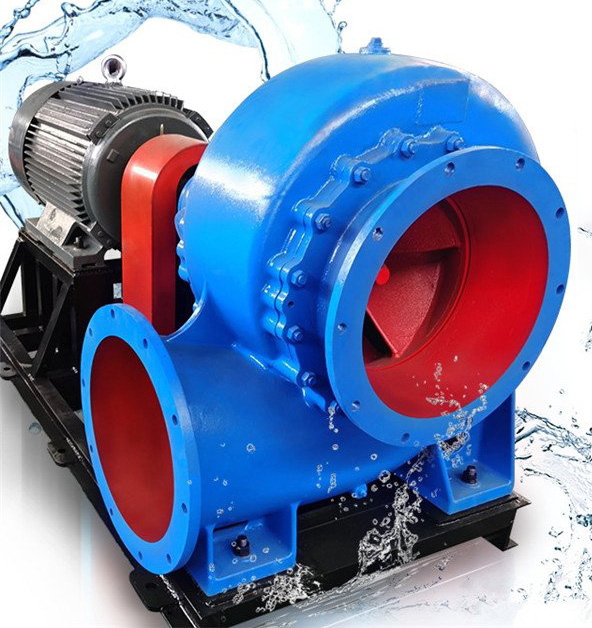 37KW 1000 M3/Hr 12 Inch 300HW-8 Mixed Flow Pump Features:
1. Pump Component: Model HW pump mainly consists of pump cover, impeller, pump casing, shaft, muff and bearing body (aperture ≤350mm) or bearing stand (aperture ≥400mm) etc.
2. Spare Parts Standard: The shaft seal is formed with packing, packing gland, packing ring and the packing box on the pump casing (no packing ring with 150HW and 200HW pumps) and functions to prevent air from being sucked into the pump and too much water from flowing out axially.
3. Standard Design: The pump cover is connected to the pump casing and the water-in pipe separately. There should a proper interval between the planes of both pump cover and impeller, too small interval will produce friction; while too big will cause the pressured water inside of the pump to flow back greatly to have the pump efficiency lowered. The practically used proper interval is 0.3~0.7mm (push the pump shaft to the pump inlet) and the interval can be adjusted through increasing or decreasing the paper pad thickness.
4. Convenient to Usage: To widen the pump's range of use and meet with the users' different requirements, cut the outer diameter of the impeller or use an impeller of different performance (expressed with letter "A" etc. Added).
5. Bearing Refueling: The pump shaft is supported with a single-line centripetal ball bearing. The bearing can be lubricated with lubricating oil-with he oil amount controlled in between the marking lines of the oil leveler rod; also with lubricating grease-filled during pump assembly or during use by means of removing both front and rear covers.
6. Highly Integrated: The muff is used to protect the pump shaft and can be replaced after getting worn out.
7. Optional Accessories: The accessories of 150~350HW pump include inlet and outlet dead and flexible elbows, foot valve, belt pulley or clutch; and of 400~650HW pump include inlet and outlet dead and flexible elbows, check valve, belt pulley or coupling.
8. Convenient of Water Diversion: The screw hole on the top of the pump casing is used to prime leading water or link a vacuum pump for exhaust leading water.
37KW 1000 M3/Hr 12 Inch 300HW-8 Mixed Flow Pump Manufacturer
Shenlong Pump Industry co., ltd can trace its involvement in the pump manufacturing industry back to 1980s. Today we focus on the design and production of heavy duty industrial centrifugal pumps. Our main products include 37KW 1000 M3/Hr 12 Inch 300HW-8 Mixed Flow Pump and all kinds of vertical and horizontal centrifugal pumps, which can satisfy the demanding requirements of mining, petrochemical processing, metallurgy, sewage treatment and other heavy industries. Shenlong can also customize various industrial pumps based on the specific demands and conditions of customers.
The pumps have passed ISO, CE and UL certification. Backed by a modern standard production workshop, CNC equipment, advanced testing laboratories, strict QC team and a large-scale pump performance testing center, we ensure that the quality of each pump and spare part will meet even the strictest of operating standards and needs of our end users.
---
Post time: 2022-02-15
---