400HW-7 Mixed Flow Pump Flow 1500 M3/Hr At 14 M Suction/Discharge 16 Inch Data:
Type: 400HW-7
Power(KW): 75KW
Speed(rpm): 980
Flow(m3/h): 1500m3/h
Head(m): 14
Outlet size: 16inch
Inlet size: 16inch
Shaft power: 66.3 kw
Efficiency: 84%
Voltage: 3 phase 380V
Frenquency: 50HZ
Pump case: Cast iron
Shaft: 3Cr13
Impeller: Cast iron
Seal type: Gland packing
Suction Casing: Cast iron
Delivery Casing: Cast iron
Weight: 506kg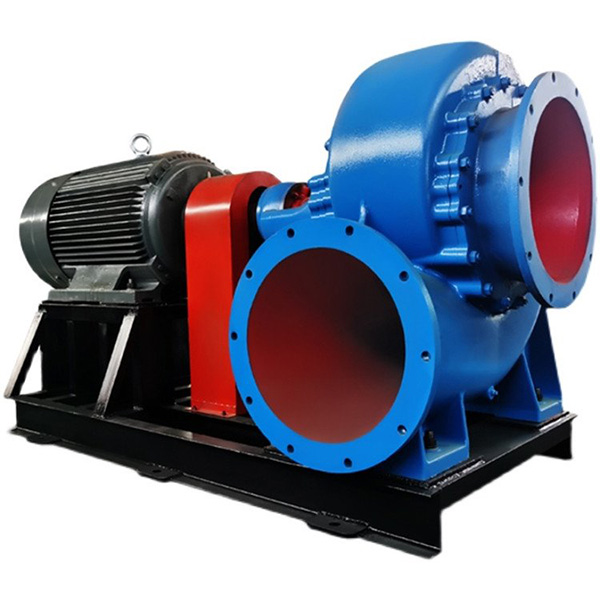 75KW 1500 M3/Hr 16 Inch 400HW-7 Mixed Flow Pump Use And Maintenance
(1)Often check the bearing's temperature rise, which should not be over the ambient one by 35℃ generally and by 75℃ to the utmost extent.
(2)Often check if the bolts get loose due to vibration.
(3)When the bearing uses thin oil for lubricating, often check and control the oil level with the bearing body in between two marking lines on the oil leveler rod; and when it uses dry oil (lubricating grease), supplement a proper amount of oil in a period ic time by means of removing both front and rear covers for model 150~350HW pump and the oil cup for model 400~800HW pump.
(4)Drain out the water remained in both pump and pipeline after stop in case of winter.
(5)Adjust the packing properly to have the liquid intermittently leak in drops from the packing gland. Too tight packing will cause the shaft heated and the power increased while too loose will cause excessive liquid leak and a lowered efficiency.
(6)Pay attention to the power to see if it is suddenly enlarged or lowered and if the flow is suddenly reduced, stop the pump to troubleshoot if it is.
(7)Pay attention to both frictional and collided sounds which may occur during the pump movement. In case of friction between both pump cover and impeller, add paper pad in between both pump cover and casing. The applicable interval in the actual use is 0.3~0.7mm.
(8)Check if there is air which leaks from the water-in pipeline.
(9)Replace the lubricating oil or grease after 3000h work of the pump or in half a year and then once every 1000h or every year.
(10)In case of direct link between both pump and motor, have the axial lines of both on a same straight line.
75KW 1500 M3/Hr 16 Inch 400HW-7 Mixed Flow Pump Manufacturer
Shenlong Pump Co., Ltd. is located in the Zhengzhou city, with convenient transportation. The company main produce submersible pumps, sewage pumps, pipeline pumps, self-priming pumps, centrifugal pumps, sand suction pumps.
This product adapts to the needs of users in different regions, different crops and different levels. With low price, satisfactory service and high quality products, it is sold well all over the country and exported to Central Asia, Southeast Asia, Africa, Middle East and other regions. We sincerely welcome cooperation from domestic and foreign customers.
---
Post time: 2022-02-15
---