1. Product overview of D, DG 11kw multi-stage pump:
D-type horizontal, single-suction multi-stage, segmented centrifugal pump. It has the characteristics of high efficiency, wide performance range, safe and stable operation, low noise, long life, convenient installation and maintenance, etc. For conveying clean water or other liquids with physical and chemical properties similar to water. It can also be used to transport hot water, oil, corrosive or abrasive media by changing the material of the pump flow parts, the sealing form and increasing the cooling system. The product implements the standard of JB/T1051-93 "Type and Basic Parameters of Multistage Clean Water Centrifugal Pump".
All 11kw multistage pumps of our company are designed and optimized by computer. The company has strong technical force, rich production experience and perfect testing methods, so as to ensure stable and reliable product quality.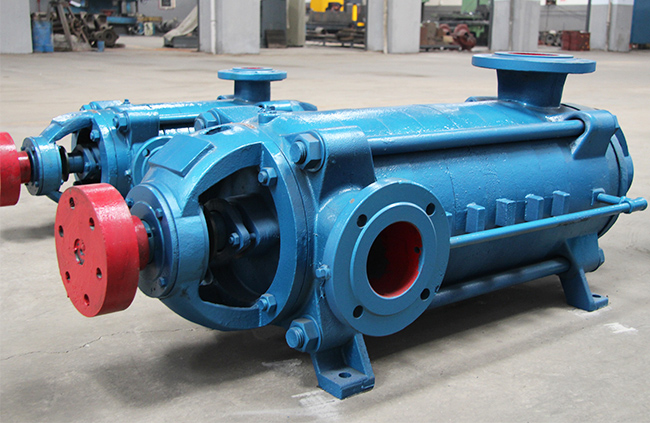 2. Features of 11kw multistage pump:
The hydraulic model is advanced, efficient and has a wide range of performances.
The 11kw multi-stage pump runs smoothly and has low noise.
The shaft seal adopts soft packing seal or mechanical seal, the seal is safe and reliable, the structure is simple, and the maintenance is convenient and quick.
The shaft is a fully sealed structure, which ensures no contact with the medium, no rust, and long service life.
3. Technical parameters of 11kw multistage centrifugal pump:
Flow: 6.3-300m3/h;
Head: 13-650m;
Power: 2.2-400KW;
Speed: 1450-2950r/min;
Diameter: φ50-φ200;
Temperature range: ≤105℃;
Working pressure: ≤3.0Mpa.
---
Post time: 2022-01-18
Previous: 11 KW Pipeline Pump
Next: 110kw Centrifugal Pump
Tags: 11kw Multistage Pump
---